Yea I'm a thief, and I'm doing a roundup
1)
Tech support
Finally the beauty of the internet at work! My iPod had started skipping on me and being just generally not cool then all of the sudden it started cycling with this awful picture coming up like a poor little dead iPod. I tried to reformat it but it decided it wasn't talking to my computer (something about a dirty usb port) and everything went to hell. Luckily I was online with tech support (read: Nick) and he convinced me that I could call for help here in Oz and that someone would help me, as Apple people are very nice.
I didn't believe him. My years of working with PC repairmen and sales-persons had made me jaded, but after 2 hours of screwing with it and getting nowhere, I gave up and decided to call my local "Apple Doctor". It appears that apple actually keeps a global registration of serial numbers to determine if my poor baby was still under warranty, so it doesn't matter that I don't have a receipt or that I bought it in another hemisphere, tomorrow my iPod goes to the doc to hopefully get fixed (or replaced).
2) Tattoo....
This weeks tattoo is so ugly and terribly placed that I couldn't possibly but it on my blog, but here is a link. Make sure the kids aren't around.
Are you feeling lucky?
3) I have to go grocery shopping.
My list is a little more exciting then this one, but not much.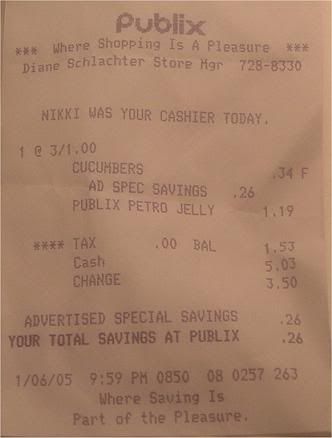 ah yes, its the saving that gives the pleasure... not the cucumber...
4) So in Uni, you actually have to write assignments?
I have 4 assignments due next week. There will be very little knitty action for a while guys, sorry!
Have a great weekend!!